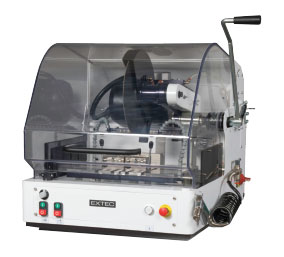 Cutting Machine - Labcut 300
The Extec Labcut® 300A Advanced Abrasive Cutting Machine is a bench top model with a high efficiency torque driven motor which is manually operated and designed for 250 mm (10") or 12" (305 mm) cutting wheels. The maximum cutting capacity is 4-1/3" (110 mm) with a 12" (305 mm) wheel. It can be used to section a wide variety of modern materials (see Applications).
The abrasive cutting wheel is driven by a 3.8kW, 5hp motor which is complemented by Highly Efficient Torque Capabilities. The variable speed motor operates between 1000-4000 rpm.
The machine bed has a grooved 16" x 12" (400 mm x 300 mm) cast iron T- Slot Base.
The fully transparent canopy has access ports on both sides to easily handle long lengths of material. The cutting chamber is illuminated by an LED. The machine has an integrated cleaning system with hose and a safety interlock switch is fitted to prevent the canopy from being opened while the cutting wheel is rotating. The machine complies with rigorous cutting safety regulations.
A 16 gallon (60 liter) coolant tank with a 100u filter is on wheels. It is fitted with a recirculating pump which floods the working area via 2 stationary and 2 flexible coolant jets. If dry cutting is required, the coolant circulation pumped can be turned off. The coolant tank fits in the optional base cabinet which is equipped with a top drawer and a pocket on the door for manuals and other documents.